Wine clubs are the lifeblood of our direct-to-consumer program. We can't let them just run on autopilot if we want to keep our members. Here are 10 tips to consider that will strengthen both our club program and our relationships with our members.
1. Customize our club
One size does not fit all. Traditionally, we expected our club members to take the wines we want to sell, and that was that. Nowadays, every business is customizing to let customers get what they want and we need to do the same. If we want to keep and grow our most lucrative sales channel, then we need to offer customizing - the percent of customers who actually choose to customize will be surprisingly small, but the return on our investment will be huge. If people see we're willing to send them the wines they want, they way they want, they'll be more likely to join and buy more.
Continued below.
Panther Creek Cellars, which sources its grapes and crafts its wines in the heart of Oregon's Willamette Valley, has opened its new tasting room in the Hollywood District of Woodinville, Wash. Madelaine Morford, tasting room director and assistant general manager of Panther Creek, said the cluster of tasting rooms in Woodinville is home to just a few Pinot specialists. "We thought Panther Creek could fill the much-needed gap for Pinot Noir," she said. "Our goal is to expose the Washington wine drinker to Oregon Pinot Noir by having them visit our tasting room and experience our hospitality."
Boost to business
Previous to the new Woodinville location, Panther Creek had a tasting room in Dundee, Ore. and before that, McMinnville, Ore. Both of those locations are now closed, and the winery has focused all its resources into the new location.
Continued below.
2. Be a good tasting room partner
If you are working in the wine club department, come and work in the tasting room one Saturday afternoon each month, especially during the summer when club members will visit and shipments are fewer. It's a chance to hear firsthand what our members are saying about our club. Since members frequently bring friends, it's a chance for us to sign up more like-minded members. It also shows our tasting room partners that we're with them and not just managing the club from the office.

3. Create benefits for tenure
Just like a marriage where the first anniversary gift is paper and the 50th is diamonds, your relationship with your club members should get better over time. Find a way to reward long-time club members. This doesn't necessarily mean bigger discounts, but rather think about privileges that give our members bragging rights. Lunch with the winemaker for local members or a stay in the guest cottage for top out-of-area members could fill the bill. Clubs that include benefits for long-term members and promote this benefit are more successful, especially with lower attrition rates.

4. Create benefits for out-of-area members
Are your members day-trippers? Or do most of your members live further away? We know that we need reasons for out-of-area guests to join the club since they can't come in for frequent complimentary tastings. Some benefits that could be considered are: letting members gift their privileges to local friends or others who travel to wine country, make sure they are the first to know about winemaker dinners in their area, etc.

5. Offer a party in a box
One of the big enticements to join a wine club is our incredible member parties. For those who can't join us at that event, create a party in a box. Give them the theme, the recipes, and a deal on the wines that will be poured at the party. Encourage them to host their own event and post the pictures on Facebook, Instagram and Pinterest.

6. Stay in touch beyond shipment emails
Relationships are based on frequent communication. Nobody likes to hear from our winery only when we want money. One of the main reasons people join our wine club is the insider connection to our winery. Create a communications calendar with topics for monthly emails to members. These don't have to be long, just relevant to our club members' interests. Tell them what's happening in the vineyard, introduce new club or tasting room staff, spotlight the winemaker or the winery dog, and invite them to visit.

7. Clean up our database
Let's do ourselves a favor and be ruthless about clearing out members who have been on hold forever. Contact the lapsed members and give them a last chance to opt in for a shipment or cancel their membership. A clean database will help us when it's time to budget since then we can be realistic about the volume each club shipment will generate.

8. Send an annual survey
Make sure our club members are as happy as we think they are. Let them know that we are listening. Send an annual survey to find out what they really value about our club and act on the results. Nothing says love like introducing a new benefit that was suggested by our members.

9. Make friends with our software provider
Squeaky wheels get the grease. Are we attending our systems provider's user group meetings? There's strength in numbers, so when we band together as users to request on a system enhancement that we all need, we're more likely to see progress. Let's tell our tech folks what problems we are trying to solve and what information we need to run our business. The good systems providers will welcome our suggestions because these will make their system more effective and desirable.

10. Don't forget the whales and the exes
We all have a bunch of great customers who would never join a club. We also have a bunch of club members that have quit our club, but NOT our brand. They deserve privileges too if we want to keep them coming back. Create a program that rewards their spending and treat them like the valued customers they are.

It's all about our relationships. How strong are yours?

Source: WISE Academy,
www.wineindustrysaleseducation.com
---
Winery Job Index
DtC Job Subcategory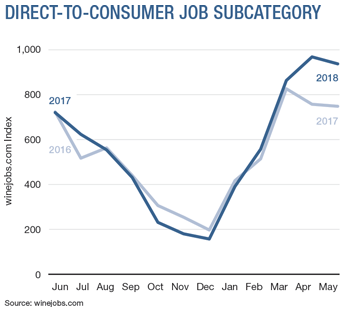 Direct-to-consumer positions, including tasting room and retail staff, saw demand rise 25% in May. This was the strongest demand of any subcategory, and the second straight month growth exceeded 20%. The index reading of 940 was second only to the previous month's all-time high of 971.
Winemaking Job Subcategory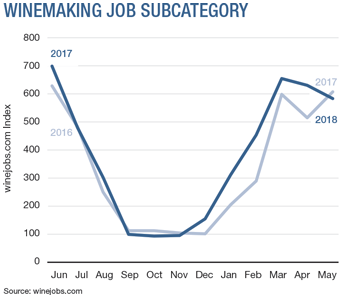 Demand for winemaking positions fell 4% to an index level of 583 in May.
As a small-production winery making 7,500 cases annually, Morford estimates approximately 60% of Panther Creek's wine sales are direct-to-consumer (DtC). She said that because the Hollywood District sees a regular flow of wine tourism throughout the year, the new tasting room, which officially opened the first weekend in June, has already been a big boost to the winery's business. "We've already increased in retail sales just due to the Pinot Noir demand that is occurring in Woodinville," Morford said.

Tricks of the trade
The new tasting room, which is open seven days a week, employs four part-time staff members. Morford said at the top of her list for ideal qualities in tasting room team members is customer service and people skills. "Wine knowledge can be taught, but it's hard to teach how to sell and how to make a great experience for guests," she said.

Morford said the team is trained to ask for the wine sales, but not to push - which she calls an important distinction. She wants guests to feel like her hospitality staff is willing to help enhance their experience with Panther Creek's wine, not force them into an unwanted purchase. Staff do not make commission on individual wine sales, but do get bonuses for signing up club members.

When asked about the perks of the wine club and how Panther Creek promotes longevity with its members, Morford said the discount is usually what makes people join, but access to exclusive wines and experiences are what make them stay. Members of the Grand Cru Wine club get access to library wines and can use the tasting room space once per year for personal, special events. "People want to feel exclusive and special when they're members," Morford said.

Inside the tasting room
The tasting room staff manages sales, inventory, website and wine club through WineDirect software. Morford calls it an "all-encompassing software" that acts as a great tool for general management in both the tasting room and the winery.

For glassware, Panther Creek is using Riedel's Ouverture Magnum line and Morford said another wine club perk is the use of the winery's logo'd Tulip Pinot Noir glasses, also by Riedel. To clean those glasses, the tasting room has installed a Champion Industries commercial glasswasher.

A stand-out design feature to Panther Creek's new venue is that the tasting bar and wine displays are created from reclaimed wood from the Pacific Northwest. Morford said she sourced the reclaimed wood herself from a salvage yard in Seattle and PNW Timbers in Port Townsend. Complementary steel work was custom built by Derek Voss of DVO Metalworks.

—Stacy Briscoe

Tasting Room News

Wedding Oak opens new tasting room
Wedding Oak Winery has entered a multi-year agreement with the Burnet Economic Development Corp. to lease the Badger Building and adjacent property on the Burnet County Courthouse Square in Burnet, Tex. The historic building, originally constructed in 1888, is approximately 5,400 square feet with additional space in adjacent buildings for a total of 8,000 square feet to be occupied by the winery. In addition to the tasting room and production facility, the venue will also feature a large ground-level patio, shaded open-air roof top terrace, expanded event space and wine club members area. This will be Wedding Oak Winery's third location; the other two are in San Saba and Fredericksburg, Tex.

Signorello Estate opens temporary tasting room
Ray Signorello, proprietor and co-winemaker of Signorello Estate, announced that the winery will be opening a temporary tasting room at its estate vineyard located along the Silverado Trail in Napa Valley. Signorello Estate winery was destroyed during the October 2017 wildfires. The winery plans to rebuild its permanent space over the next three years. The temporary, modular tasting room is due to open mid-July.

New Tasting Room Products

AstraPouch sangria packaging
AstraPouch launched a new soft packaging specifically for sangria. The 1.5L pouches come either pre-printed with a fruit-themed design or manufacturers and distributors can customize the packages with labels featuring company logo, artwork or lettering. astrapouch.com

Julianna Glass
Produced in Europe, Julianna Glass glassware is made from lead free crystal glass, hand cut by trained glass artists. Varietal-specific wine glasses, champagne flutes and barware are all available with uniquely etched designs, ranging from subtle and classic to larger embellishments and even seasonally themed decor. As an official branding partner with Swarovski, each design collection is embedded with Swarovski crystals. juliannaglass.com

Please send suggestions to trf@winesandvines.com.