A lively conversation among WISE instructors was triggered by a recent article about one of the hot trends we're seeing – the changing interests of visitors to wine county. Although this article targets Napa specifically due to the number of visitors that come to this progressive region, it can be argued that the volume is a good indicator of potential trends that other regions might soon recognize and prepare for.
This trend is showing that Napa, in its an attempt to combat extreme competitiveness, is offering more memorable, awe-inspiring, high-dollar tasting experiences that require more time spent one-on-one with guests at the winery. It seems that we are sometimes engaged in a game of one-upmanship. The experiences strive to be bigger/better/more expensive/more Insta-worthy than what our neighbors offer.
Continued below.
In August, Frank Ostini and Gray Hartley, known for their famed Hitching Post 2 restaurant along East Highway 246 in Buellton, Calif., opened Hitching Post Wines — the partners' first tasting room featuring the Hitching Post portfolio of wines, complemented by food from the iconic restaurant, located just next door.
Ostini and Hartley started the Hitching Post brand back in 1984, with the first commercial production reaching just 1,200 cases. "By 1999 we were 2,000 cases and we made 4,000 cases in 2000," he said.
But then the film Sideways was released in 2004. "Oh yeah," said Ostini. "With Sideways we quickly jumped from 5,000 to 15,000 cases with the 2005 vintage. The increased demand, coupled with the numerous new vineyards of high quality coming into production in Santa Barbara County, allowed us to grow quickly and maintain high quality."
Continued below.
According to the Wine Enthusiast article, written by Virginie Boone and titled "Why the Tasting Room is Dead," this is what visitors want now:
Many of Napa Valley's 3.5 million yearly visitors appear to want different things out of a winery experience than in days of old: More sit-down tastings, food pairings and places to hang out and Instagram their day. That's not to mention more of a sense of belonging.
The question is – is this really what visitors want, or is it what wineries are doing to attract visitors? Either way, with traffic stagnant or less than previous year, the trend continues, but is it practical? Does everyone who visits wine country want an all-day, immersive experience that will cost $100+? If our average bottle price is $100+, it may be appropriate to create a guest experience that costs $100+ and encourages visitors to hang out all day. However, we can't overlook the people who want a 'traditional' experience and do not want to spend a lot of time or dollars on an experience.
Best practice is to have experiences that target our qualified buyers – from prospect to brand ambassadors – that match the level of our wine which will gain fans for our brand and sales for our bottom line. Regardless of the price of the experience – which is a business decision based on highest and best use of every bottle and every labor hour – we must nail the basics of great storytelling, genuine service heart, and professional sales skills.

The article went on to say:
There's no doubt that the status quo can be a less-than-inspiring experience. Crowded, perfumed, snack-less and staffed at times by indifferent hosts, the traditional tasting room can be a rotten place to learn about and taste wine.

No argument there! After literally thousands of mystery shops, we know that these humdrum-to-unpleasant experiences occur more often than we would like to admit. Hiring the right staff who are knowledgeable and hospitable, and then training them properly, can make the difference between the mundane and the sublime, regardless of price point. True hospitality doesn't have to cost a fortune. Some of the best experiences we have had are inexpensive tastings, held on a wood plank on top of two barrels, hosted by staff who can tell a great story. If we go back to basics, pay attention to our guests, and remember our manners, we can offer a stellar and affordable tasting room experience that appeals to all of our qualified buyers.
We love the higher conversion rates we get when offering a one-on-one personal experience. But let's do the math – if we offer fewer people the opportunity to taste because of our immersive all-day, can we still be viable and profitable as a business? If our conversion to purchase/wine club/email list isn't exceeding the industry averages, let's take a look at what we have to offer and how our guests are experiencing it.
So when reviewing your guest experiences and keeping in mind the competition with your neighbors, consider what your objectives are and listen to what your guests are really asking for. Is this example of one-upmanship the canary in the coal mine for other regions or simply a Napa problem? WISE instructors are seeing yellow birds…
Source: WISE Academy,
www.wineindustrysaleseducation.com
---
Winery Job Index
DtC Job Subcategory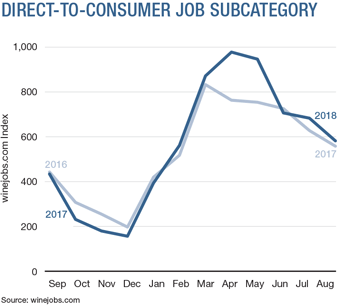 Demand for direct-to-consumer positions, including tasting room and retail staff, increased 4% in August to a subindex reading of 580.
Winemaking Job Subcategory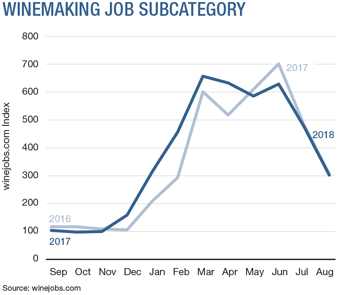 Demand for winemaking positions fell 1% in August, with the subindex sitting at 300. This was the lowest level of the year for the index.
Today, Hitching Post produces 17,000 cases a year out of Terravant Wine Company in Buellton.

And yet the winemaking team never opened a tasting room.

"My original goal was to serve my wine in my family's restaurant," said Ostini. A goal he considers accomplished since the restaurant opened its doors in 1986. "But I never allowed the wine to take over as the star player of the Hitching Post 2."

Though he and Hartley have always been actively involved in the winemaking, Ostini said they've never had the opportunity to truly give the wine part of the business "it's just due." But with a recent expansion of the Hitching Post property, from one acre to 12 acres, he said they can now let the winemaking story take front and center at the tasting room while continuing to focus on food service at the restaurant.

Those additional 12 acres included a pre-existing mid-century cottage, which has been transformed into Hitching Post Wines. Ostini said that previous owners, Loring and Cargasacchi Wine Companies, already did some minor restorations to the old building and that the "bones of a tasting room" were already in place when they moved in, including the tasting table counters, tin corrugated ceiling and fireplace.

"We came in to renovate the original farmhouse," he said, which included restoring the original floors and introducing wood from an adjacent barn, building wine cabinets from the reclaimed wood. "We have discovered that as things get old they are discarded, then they get good again, just like us 65-plus year-old winemakers — we hope," Ostini said.

The new, 2,000 square-foot tasting room includes a main tasting bar and two separate rooms to accommodate private tastings and special events. The exterior includes casual seating for guests who want to stay and partake of the Hitching Post 2's takeaway menu. "We are using a tricycle that has been outfitted with a Cambro holding cabinet," said Ostini, describing the delivery service from restaurant to tasting room. "I'm convinced it is the fastest delivery service we can provide and it is energy efficient and carbon neutral."

About the business
Currently, Hitching Post does less than 20% of its business through direct-to-consumer (DtC) sales. With the new tasting room, Ostini said he certainly sees room for growth in this area. "We hope to double our DtC and build our wine club as we can now focus on these goals in the tasting room," Ostini said. "I would never let that happen in the Hitching Post 2, as I didn't want to interfere with our primary goal of providing food and hospitality to our dining customers."

Ostini said that Hitching Post's current best-selling wine in his restaurant is the Highliner Pinot Noir ($44), which is the wine featured in the movie Sideways. But in his new tasting room, he's noticed a shift toward the dry rosé, "Pinks," and the Merlot-Syrah blend, "Gen Red," both priced at $19.

Hitching Post Wines staffs seven tasting room sales associates, with just two or three working at a time. "Tasting room manager Lisa Schaeffer has assembled a great combination of wise and experienced staff with young and excited newcomers," Ostini said. He said the most important qualities for his staff are passion for the wines they're selling and communication skills to convey that passion to consumers.

When asked how he advises asking for a sale at the end of a tasting experience, Ostini admitted he's still learning that skill himself. "I've always depended upon the wine to speak for itself, but I suppose there are more direct ways to make a sale happen," he said.

Hitching Post Wines' sales associates do work on commission and are rewarded for any wine club sign-ups.

Tools of the trade
Currently, Hitching Post Wines is using True Commerce for its point-of-sale (POS) system, which aligns with Nexternal, the platform used for the winery's webstore. Ostini said it was their most economical choice. "This is fairly new for retail tasting room POS, so we can't as yet recommend this set up. We're hopeful that the glitches can be worked out soon."

The tasting room uses Riedel IPNC Pinot Noir glasses to serve wine, a glass Ostini described as a "big, funny shape," but said makes his wines truly taste and smell better than any other glass he's used.

—Stacy Briscoe

Tasting Room News

Mi Sueño opens new tasting room
Mi Sueño opened its new tasting room located within The Village at Vista Collina Resort in south Napa, Calif. According to a press release, the new venue will allow Mi Sueño to expand from Monday through Saturday by-appointment only tastings at the winery, to walk-in tastings seven days a week.

L'Ecole hires new tasting room manager
L'Ecole N°41 in Walla Walla, Wash., hired Alyson LaVarnway as its new tasting room manager, replacing Ben Dimitri who has joined the winery's production team. LaVarnway joins L'Ecole from Dunham Cellars in Walla Walla, Wash., where she served as the hospitality and events manager for more than three years. Prior to that, she held hospitality management positions at both Pepper Bridge Winery and Charles Smith Wines / K Vintners.

New Tasting Room Products

truvi: new DtC sales software
The new, cloud-based truvi platform is intended to allow winery customers to manage their businesses across multiple sales channels, including the wine club, tasting room, web and mobile. The platform's features include reporting tools to analyze performance across different sales channels (filterable by purchase date, settlement date or shipment date); a streamlined subscription module with the option to allow customers to modify their own wine club selections; an advanced shipment manager integrated with UPS, FedEx and GSO; marketing tools to help develop customer relationships and a full set of API's and best-of-breed integrated partners. truvicommerce.com

New totes by Thread & Whisk
Thread & Whisk released a new collection of tote bags specifically designed for food and wine. The Bloom Culinary Totes are designed with a low center of gravity, which the company claims prevents Tupperware and bottles from tipping during transition. They are also temperature controlled to ensure food and wine is served at the right temperature. The food totes come in 6-inch or 12-inch sizes. The wine bottle carrier holds two bottles separated by a pocketed divider. threadandwhisk.com

Please send suggestions to trf@winesandvines.com.