1. Financials. Develop (if you haven't already) a financial plan for outbound calling with a projected profit and loss statement. In simple terms, figure out how many phone calls yield how much in sales and at what cost in compensation. Calculate your projected labor cost percentage of sales revenue. Having a well, fleshed-out plan that includes these financial aspects will show how you're doing against the plan and help keep you on track to achieving your goals.
2. Compensation. As part of the bigger financial plan, deciding how to compensate staff will be a major factor. Consider: Will you pay an hourly rate? Should it be higher or lower than tasting room or customer service staff? Should you pay a commission as a percentage of sales revenue achieved? What should that percentage be? Best practices on compensation is to pay a bit more base-salary to the outbound callers at your winery, because it requires an enhanced level of expertise to succeed at phone calls. Then offer an additional commission on completed sales between two and six percent of sales, depending on what your financial analysis reveals that you can afford and still reach profit goals.
3. Staffing. Who is going to make the calls? Initiating an outbound phone call can be intimidating to some employees. It takes a good deal of personal presence, even courage, to place a phone call and start a conversation. Consider the staff you have in place and whether they have the "fire in the belly" to make a lot of phone calls and potentially be turned down over and over again. Do you need to seek new staff members? Do you need to shift responsibilities? How do you find the right fit for a team member to make outbound calls? What kind of personality and skills are needed? There are certain skills which make a good outbound caller, but those skills must be refined by training and motivated by incentives. Having the right people making the calls will be the difference between success and failure for your telesales channel. Careful hiring is the first step.
4. Metrics & Analytics. Tracking metrics and analyzing your progress will help with making good business decisions, since any insights that you have been missing will pay dividends if tracked and adjusted properly. A few key metrics to track: activity metrics such as number of calls made, conversion rates, overall sales performance metrics. Set Key Performance Indicators (KPIs) for the foundation upon which you will be able to appraise the success of your outbound calls strategy.
5. Incentives & Training. A compelling incentive compensation plan is what drives high-sales performers. Incentives should be both short- and long-term, in order to encourage positive behavior – everything from daily competitions with small prizes, to commissions based on monthly or quarterly performance. Motivate through metrics and KPIs and reinforce through training. The data that you collect should directly feed into the training program that you are utilizing for incoming staff at your outbound call center – and for ongoing training for your current staff.
6. Equipment. Do you have the right telephone equipment and CRM system to support a calling effort? In many cases, this is the stopping point for wineries who simply do not have a sufficiently sophisticated system to record calls, notes on customers, and contacts in a format that allows them to analyze and act upon their results. Insufficient system? Make sure to have work-arounds in place and plan for upgrading the system to accommodate your growing phone-sales channel.
7. Rules of Engagement. Do you know the compliance rules for outbound calling? How will you ensure the team is following cell phone compliance and all are up to date with regard to TCPA (Telephone Consumer Protection Act) and FCC compliance? Knowing who you can call, when you can call, and what number you can call is more complicated if you don't know the rules.
8. List Management. Once you have a plan in place and equipment all set, consider the tactical: curating lists. Which lists are you going to call? How often are you going to call? Who is going to do the list selection and how are you going to get the list into the hands of your callers? Good list selection is part science, part art and good judgment, and the better the list, the more successful the program. List segmentation makes the calls more effective and efficient. While software is definitely helpful, having a plan for list management is essential.
9. Offer Management. Who is going to develop the offers for your callers? How long will your offers be available? Who will manage the coordination with marketing e-mail offers? Will you develop phone call offers separate from e-mail offers, or follow the e-mails with a phone call? As with any sales and marketing plan, calendar campaigns and offers ensure all relevant departments are aware of the current offers in case customers call back to another line, come in to the tasting room, or email a different department. This way, the customer will get the best service possible.
10. Staff Management. If you are not prepared to genuinely manage an outbound calling effort, you are setting yourself up for failure. Staff management includes goal setting, incentives, handling disputes, customer service issues and questions that arise from your team. Having a dedicated, strong and capable leader to oversee the team and help keep everyone motivated and on track makes for a successful outbound team.
If you want to own your relationship with your customers and more fully develop the picture of who your customer is and what they want, then go for it! Start an outbound calling program and watch your customer data expand and profits increase. Do it with robust preparation, seeking answers to all the questions raised here, and so many more. Do it with an expectation of success. Do it with excellent management.
Source: WISE Academy,
www.wineindustrysaleseducation.com
---
DtC Job Subcategory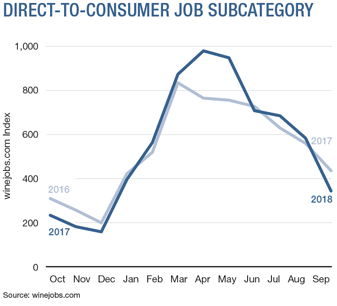 Demand for direct-to-consumer positions, including tasting room and retail staff, dropped 21% in September to a subindex level of 343.
But there's a loophole: New licenses can be granted to businesses taking over a space previously occupied by a tasting room.

Sbragia's new tasting lounge takes the place of Enkidu Wines, which has moved to its new location on Eighth Street East. "We consider ourselves lucky to have secured this spot with the 'work around,'" said Sbragia's sales and marketing manager, Audrey Posl. Despite some controversy within the community, Posl said Sbragia hasn't experienced a lot of pushback. "We're making a huge effort to be a fun experience and an event-centric community meeting spot, not just another tasting room," she said.

Posl said the renovation and decoration — a "fresh, modern farmhouse look," intended as a nod to the Sbragia family's farming history — was completed entirely by winery staff. "Our handyman spent days installing a corrugated tin ceiling, wooden backdrop behind the bar, sliding barn door and new light fixtures. Even our COO spent days painting walls," she said.

Sbragia also operates a tasting room at the estate winery on Dry Creek Road in Geyserville, Calif. Owner Ed Sbragia founded his eponymous label in 2001, after 32 years as "winemaster" for Beringer in Napa, Calif. According to Wines Vines Analytics, today the still family-run winery produces 16,000 cases annually from their 52-acre estate vineyards in the Dry Creek AVA.

Posl said one of the main motivators for opening this second, centrally located tasting room was to increase the winery's direct-to-consumer (DtC) sales. "The majority of Sbragia's business is DtC, and as a still-growing medium, we are hoping to increase the amount of wine club members and repeat customers to our two locations and website," she said.

Since the opening of the Sonoma Plaza tasting room three months ago, Posl said, she's already seen an increase in DtC numbers.

Posl said DtC best-sellers are slightly different than what's popular at wholesale. "In our tasting room, guests like to seek out bottles they can only get at the winery, such as our Dry Creek Valley Sauvignon Blanc, Merlot and special-label bottles reserved for wine club like Nonno's Zinfandel," she said.

The two main wines found in distribution, the Home Ranch Chardonnay and Gino's Zinfandel, are less popular in the DtC market. "This is because we have a much broader selection of wines being sold (DtC) online as well as in the tasting room," Posl said.

Currently, Sbragia's Sonoma tasting room is staffed by two full-time employees. "We intentionally sought out people who already have a connection to the Sonoma Plaza community and wine scene," Posl said. This, she said, has helped the brand build a foundation for outreach and authenticity.

Staff members are rewarded for club sign-ups and meeting DtC goals but are encouraged to ask for sales and wine club sign-ups in authentic, personal ways. "We learned some time ago that uniform scripts don't work," Posl said. "A satisfied customer telling 10 friends about their great time at Sbragia is just as valuable as a club sign-up."

Tools of the trade
Sbragia uses eCellar as its point-of-sale system. Posl describes it as a full-service system that allows her and her staff to send emails and track club shipments. It also serves as a reservation calendar.

Upon opening the new tasting room, Sbragia invested in new stemware, the Stolzle Revolution glasses. "We also do have some classic decanters but are still looking for some more interesting ones to display on our tables as a statement," Posl said.

—Stacy Briscoe

Tasting Room News

Brave & Maiden opens new winery
Brave & Maiden Estate opened a new production facility and tasting room on the winery's 70-acre estate on Refugio Road in Santa Ynez, Calif. The new production facility, designed by Backen & Gillam Architects in St. Helena, Calif., is permitted for production of 8,000 cases per year. The hospitality area contains an indoor-outdoor tasting room with views of the estate vineyards and the Santa Ynez Mountains.

Justin Vineyards new tasting room
Justin Vineyards opened its second tasting room, at 811 12th St. in downtown Paso Robles, Calif. The new venue includes a tasting bar, lounge and full dining room, offering guests wine flights, wines by the glass and multiple food pairing or dining options. "This is a special day for Justin as we expand the footprint of our brand and our commitment to the Paso Robles community," said Clarence Chia, vice president of marketing and direct-to-consumer for the winery.

Tasting Room Products

CapaBunga and tote+able
CapaBunga, retailer of wine glasses and wine accessories for the home, and tote+able, maker of canvas canteens and bags, have merged, consolidating the brands under one roof. The companies stated in a press release that the merger will allow them to offer a larger product selection to manufacturers' representatives and retailers nationwide. The combined business will operate from CapaBunga headquarters in Windsor, Calif., and consumers can find products from both companies on the CapaBunga website. capabunga.com

Wine Accents
Wine Accents offers a wide range of kits that include titanium-finished, solid chrome wine tools such as professional-grade corkscrews; innovative wine aerators; ergonomic foil cutters; sleek universal drip rings; spiral glass charms; and multiple combinations thereof. The company also offers a line of high-quality novelty wine glasses (18.5 ounces), with various phrases on the glasses. wine-accents.com

Please send suggestions to trf@winesandvines.com.

Winemaking Job Subcategory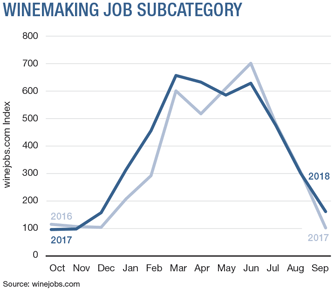 Demand for winemaking positions increased 57% in September versus a year earlier, with the subindex rising to 161.